Upcoming Shows/Events and Results
Upcoming Shows & Events
Past Shows & Events
Tweed District Orchid Society
04th - 05th November 2023
Tweed Heads Civic Centre Auditorium
Tweed Heads was the place to be, or at least for the Saturday of the show, Sunday turned into a very wet day with rain pelting down all day which definitely put a dampener on the day. Not to be discouraged however those who attended saw a display of some fine orchids and were given the opportunity to purchase some lovely plants from the vendors to enhance their collections.
The show was very well attended on Saturday and the members of the club did a great job explaining and informing the public on all things orchid related. Potting demonstrations were well attended, and a lot of knowledge was surely gained.
Well done to all concerned.
Bribie Orchid Society
20th – 21st October 2023
A trip to Bribie Island is always worth the effort, but when coupled with a fantastic orchid show, well what more could you want.
An excellent event with plenty of orchids to be seen on the show bench which included a number of large specimen type plants. The plants were grown magnificently by the local regional growers and displayed in an excellent manner.
Couple tat with a great sales area containing a large number of vendors and you expect nothing less.
Hervey Bay Orchid Society - Triennial STOCQ Orchidfest
Xavier Catholic College. 1 Wide Bay Drive, Pialba, Hervey Bay Qld
22nd - 24th September 2023
A truly spectacular event with one of the highest quality display of orchids we have ever seen. The number of flowering plants was a credit to all the local growers from across the region who contributed. The event was extremely well attended and those who registered for the conference talks were not disappointed. A massive effort from the members of Hervey Bay for which they should be immensely proud. This one will be hard to match in the future.
Childers & Isis District Orchid Society - Spring Show
Isis Cultural Centre, Churchill Street Childers
1st & 2nd September 2023
Yet another lovely show from the members of the Childers area with several associated clubs and societies also contributing, making a great display.
We were fortunate to have a plant of Cattleya Rosella's Pink Angel 'Noela May' take out reserve champion and to be awarded a Highly Commended Certificate from the Australian Orchid Council and Sub Tropical Orchid Council Queensland. This was a lovely surprise.
Childers always puts on a great display for a smaller club and this show was no exception. Congratulations to the members and committee for another great show.
Bundaberg Orchid Society
12th - 14th May 2023
Civic Centre, Bourbong Street, Bundaberg Qld
Bundaberg Orchid Society celebrated its 50th anniversary this show and what a magnificent event was created by the society. The show was spectacular with 2500 visitors attending to see the hall full of flowers. It was fantastic to see everyone working so well and happily together. A great thanks should also be made to the surrounding societies for their contributions. Hervey Bay, Maryborough, Childers, and Calliope all participated. Congratulations to all concerned. As a vendor the show was also great to be part of with lots of our customers returning and new friends made. We look forward to seeing everyone again next year.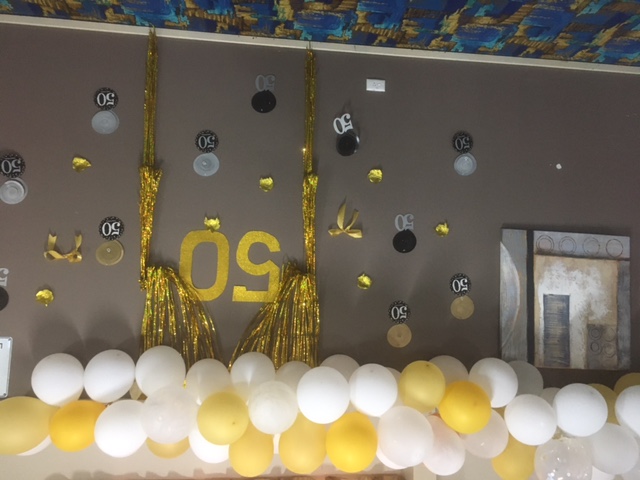 Bribie Orchid Society - Easter Show
7th & 8th April 2023
The Orchid House & Indoor Bowls Club - Bongaree
This was our first time attending the Bribie Island event. With the show in the Orchid House and the vendor sales in the Indoor Bowls Club halls there was plenty of room for the public to wander and see all the plants. The show was unfortunately a little light on for plants due to recent weather events which made flowering difficult. The vendor area was packed with lots of variety for the public and members to ponder over. With the amount of plants purchased the future shows should have lots of new blooms for the judges to consider. Well done to all the members who put together a great event, we look forward to making this a regular event over the years ahead.
Childers & Isis District Orchid Society
24th & 25th March 2023
Isis Cultural Centre, Churchill Street Childers
Another great event for the Society with plenty of very nice plants on display. The hall was full of colour and fragrances. The event went off with out a hitch as usual, or at least from an outsiders perspective looking in. I am not sure if the show committee would agree as having been part of them in the past there is all ways something to make life interesting. The vendors had pleanty of plants to tempt the public and members alike, and we are sure they increased their collections ready for future events. We look forward to the next event in Spring at Childers.
Queensland International Orchid Fair
24th & 25th February 2023
Belmont Shooting Centre, 1485 Old Cleveland Road Belmont
Tweed District Orchid Society
04th - 06th November 2022
Tweed Heads Civic Centre Auditorium
Hervey Bay Orchid Society
23rd - 25th September 2022
JPAC Hall at Xavier Catholic College, Eli Waters
22nd Australian Orchid Council Conference & Show
31st August - 4th September 2022
Logan Metro Sports & Events Centre Crestmead
Childers & Isis District Orchid Society
26th - 27th August 2022
Isis Cultural Centre - Churchill Street Childers
Townsville Orchid Society
8th - 10th July 2022
Townsville Orchid Society hosted its 75th anniversary show which proved to be a major success for the club. Not only is it a great achievement to make 75 years but to put on such a spectacular was a fantastic effort.
The show was excellent and all who attended left with smiles on their faces. Lots of plants were purchased by the public and members alike to bolster their own collections which will only serve to make future shows even more competitive and colourful.
Let's hope that the club continues to thrive for the next 75 years.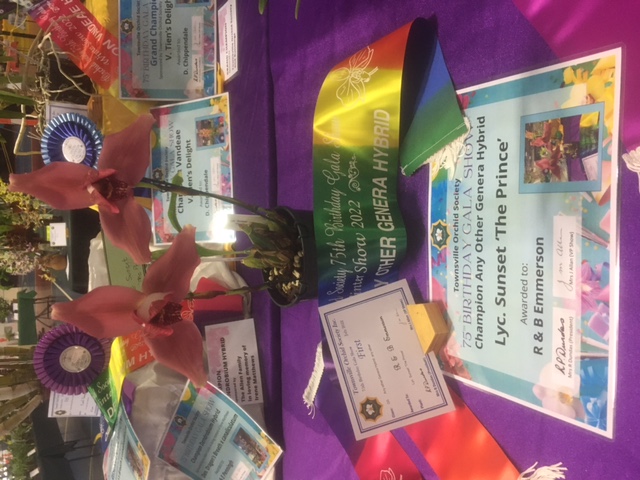 Bundaberg Orchid Society Inc.
6th - 8th May 2022
Bundaberg Civic Centre - Bourbong Street Bundaberg
Well another year and another fantastic show held by the Bundanerg Orchid Society. A little over 2000 patrons attended the show over the 2 1/2 days, all seemed very impressed with the variety and colour of the plants on display which were spectacular. 
Congratulations to the club and the organising committee who did an excellent job. The show ran very smoothly and everyone participated happily. Sales were very good with many plants going to new homes from all over the state and beyond. 
We look forward to seeing everyone again next year.
Combined Orchid Spectular - Bray Park
9th-10th April 2022
Genesis Christian College - 12 - 16 Youngs Road Bray Park 
Childers & Isis District Orchid Society
1st - 2nd April 2022
Isis Cultural Centre - Churchill Street Childers
The Childers club produced one of their best shows over the two days at the start of April. The number of flowering orchids on display was dazzling and the quality superb. We were again in attendance to tempt the orchid lover with some must haves. While the crowd numbers seemed down on the previous year those who attended certainly enjoyed the spectacle. Well done the organising commitment and members who not only produced a high-quality show but also looked after us in royal style. See you all later in the year for the Spring show.
Qld International Orchid Fair
25th - 26th February 2022
Belmont Shooting Complex - 1485 Old Cleveland Road Belmont
It was a wet and wild weekend for this year's Orchid Fair with rain falling and Brisbane flooding, along with much of the rest of South-Eastern Queensland. The fair moved to a new larger location this year at the Belmont Shooting Complex, which turned out to be a great site for the event. The increased room available allowed better access to all the vendors by the public and despite crown numbers being down, due to the weather, it was much easier to move around.
Overall, the event proved once again to be a great place for the public and enthusiast alike to purchase some orchids and reunite with friends and colleagues. Well done to the organisers who had some tricky problems to overcome, which they did in style.
Maryborough District Orchid Society
16th - 18th September 2021
Hervey Bay Orchid Society
24th - 26th September 2021
2021 - Childers & Isis Dist Orchid Soc -Spring Show
Well, another show at Childers has come and gone, and again it was an outstanding success, with the public amazed at the variety and beauty of the orchids on offer for viewing. We had an exceptional show personally taking out the Reserve Champion Orchid of the Show along with four first place, four second place and five third place prizes.
The reserve champion was our lovely V. Viboon Sunset shown in the picture below.
Overall, the display was great with good numbers of flowering plants. The show ran very smoothly, and the members and committee should again be proud of their achievements. Well done to all.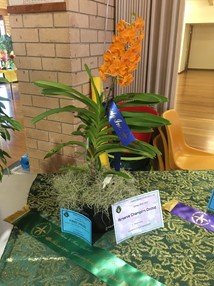 2021 - Bundaberg Orchid Society Show
The Bundaberg Orchid Society conducted it annual Mother's Day Show over three days 7th – 9th May 2021.
The show was something a bit different this year, due to the covid restrictions it was conducted as a tabled plant show rather than the display shows of the past years.
The show was however a magnificent success with lots of beautiful entries exhibited by members of the local and surrounding clubs. The tables were a mass of colours and the crowds, in record numbers, appreciated the effort.
On a personal note, the sales were fantastic, and all vendors all went home incredibly happy with the support they received and with a lot less stock than when they arrived. We were also pleasantly surprised when one of our plants took out the Grand Champion of the show. A lovely Ctsm. Green Dragon did us proud.
Congratulations to all the winners and thank you to all who contributed in any way, it was a great show and well worth the price of admission for anyone who visited. Well done to the Committee and Members of the club who did a fantastic job.
Can't wait until next year!!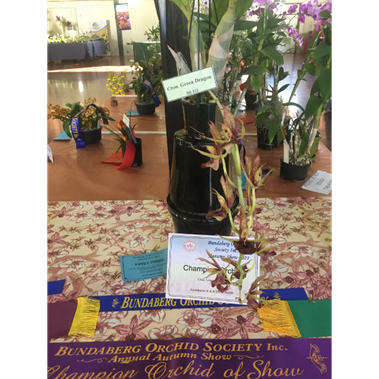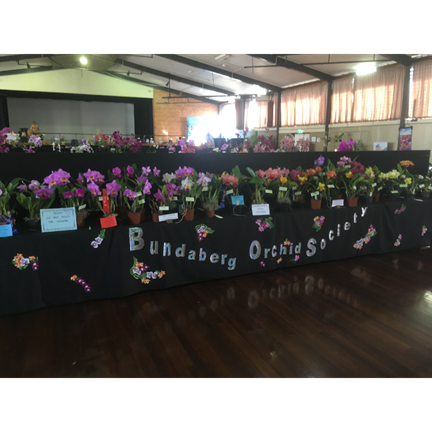 2021 - Childers Orchid Society - Charity Show
The Childers & Isis District Orchid Society has been the first society, that we attend, to hold a show since Covid19 hit. The show was held over two days on the 19th and 20th March. What an outstanding effort by the club and its members. The show extended to a second day for the first time this year and what a stroke of genius it proved to be. Crowd numbers were up, and everyone was very happy to again be able to show their orchids. The public enjoyed the opportunity to get to an event and they were keen to show their appreciation. Overall, the event went off like clockwork and we also appreciated their efforts greatly. We look forward to their next event latter in the year.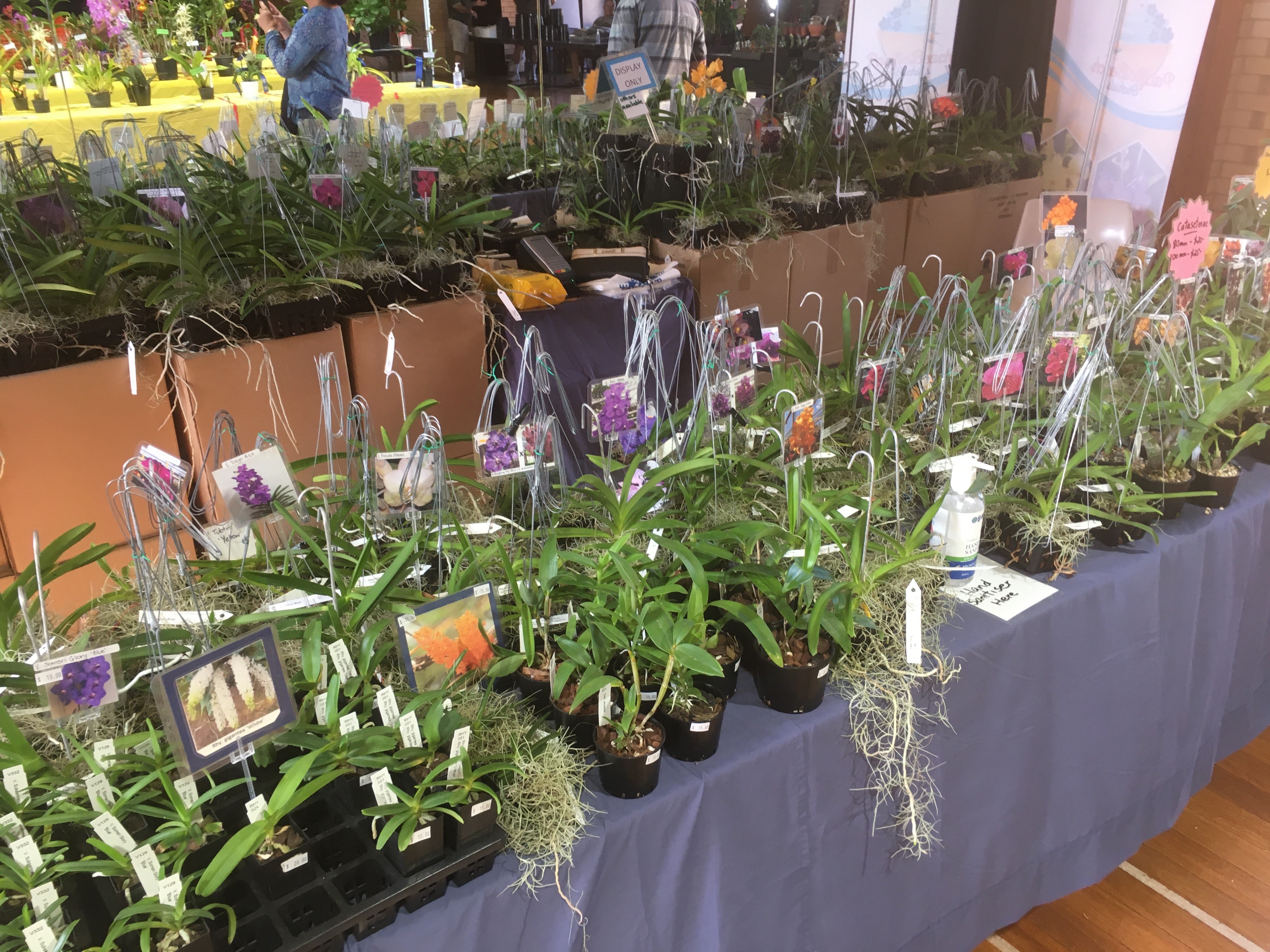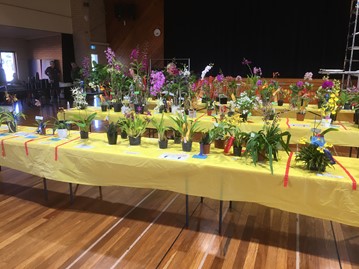 2020 - Qld International Orchid Fair Beenleigh
Pacific Beach Orchids was at the QIOF on the above dates, with a good variety of orchids for sale. Some of the first release Vanda plants we had available are listed below:-
V. Fuchs Delight x V. Simirun
V. Suksamran Spots x V. Pinaret
V. Varut Leopard x V Krajard Thong
V. Pinchai 'Pink xx V. Dr. Anek x V. Yano 'Pink'
V. Banjong Sky Blue x V. Kulwadee Fragrance
V. Chulee Classic
V. Pinaret x V. Taveesuksa
V. Udom Gold x V. Kanmanee Gold xx V. Varut Leopard
V. Mei Beauty x V. Gordon Dillon 'Saman Blue'
V. Arunee Honeymoon x NP20
These were only a few of the exciting plants available from our stand. We also had larger sized plants available that were close to flowering size at reasonable prices.
2019 - Hervey Bay Spring Show
September saw the Hervey Bay show, where we had some excellent success. 3 first placings, a couple of seconds, and a third was very pleasing. The quality of plants on display was excellent. The displays continued to excite the general public and there were plenty of vendors from which to purchase that treasured future champion. With so many plants being purchased we are sure that the competition will continue to grow in the years ahead. This is our last show we will attend for the season, and are now on our well deserved break. We'll be back with many new varieties next year to hopefully tempt the growers and public. Have a wonderful Christmas and New Year and we hope to see you all again around the traps in 2020.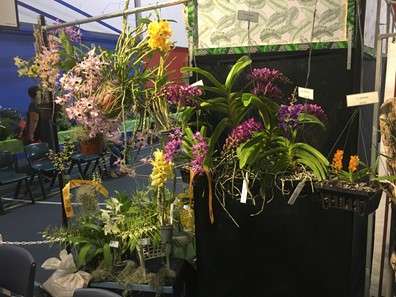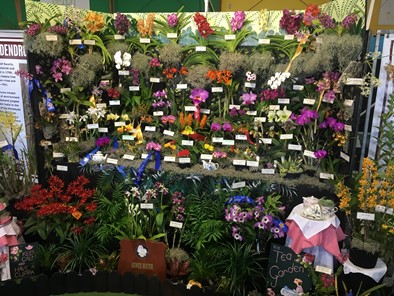 2019 Childers Orchid Society - Spring Show
Well yet another spring show at Childers has come and gone, and what a great show it was. We believe it was one of the best Childers shows we have attended. The show plants were in good numbers and the presentation and quality was outstanding. We had yet another sucessful time meeting up with old friends and  new enthusiasts starting out on their orchid growing adventure. It was very satisfying to have so many people returning to purchase plants from us saying that previously purchased plants were growing well and that they were very happy. It is always nice to receive that type of feedback. We look forward to seeing you all again next season.
2019 Agnes Water Orchid Society Show
The weekend of the 10th and 11th August 2019 saw the Agnes Water club run yet another orchid and foliage show. With all the local clubs and growers getting behind the event as well as the many valued sponsors, it continued on the success of previous years. The displays were excellent, with some high-quality orchids to be seen. 
We were delighted with a 1st prize and Champion of Class in the Vandeae section with this beautiful Van. Azura 'Breathless'. We also won 1st in the Vandeae Species section with the lovely Rhy. gigantea var. alba.
Thanks to all the members who put on the show and it was great to see all our friends from the orchid growing community. We look forward to next year being even better. The club raised $1500 to support the Care Flight Rescue Helicopter Service from the charity auction, a truly amazing donation from a relatively small club. Well Done!!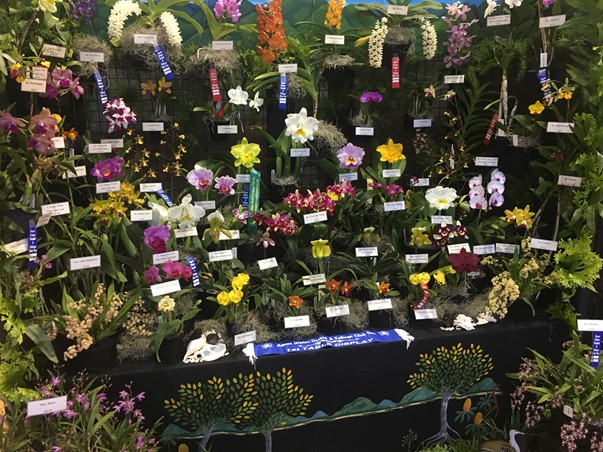 Agnes Water Orchid & Foliage Society First Prize Table Display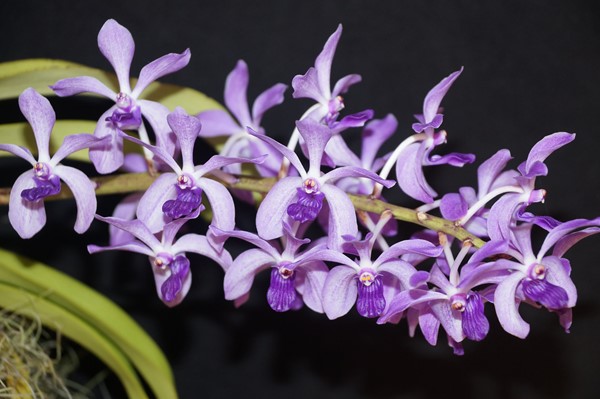 Van. Azura 'Breathless'
Rhy. gigantea var. alba
2019 Bundaberg Orchid Society Show
The Mother's Day weekend in late May saw another outstanding display at the Bundaberg Civic Centre. The Bundaberg Orchid Society along with all the local clubs supplied a spectacal with individual displays and some excellent quality plants for judging. The public really appreciated the event and the numbers through the door was again high. The quality of plants presented continues to improve each year. If you missed the show this year then book it into your calendar for next year as we are certain it will be worth a look.
From a vendor viewpoint, we had a great time and met with lots of returning growers along with a bunch of new and budding orchid enthusiasts. We again received lots of compliments on the stand and the quality of plants we had for sale. Thanks to all of the public who gave us their support.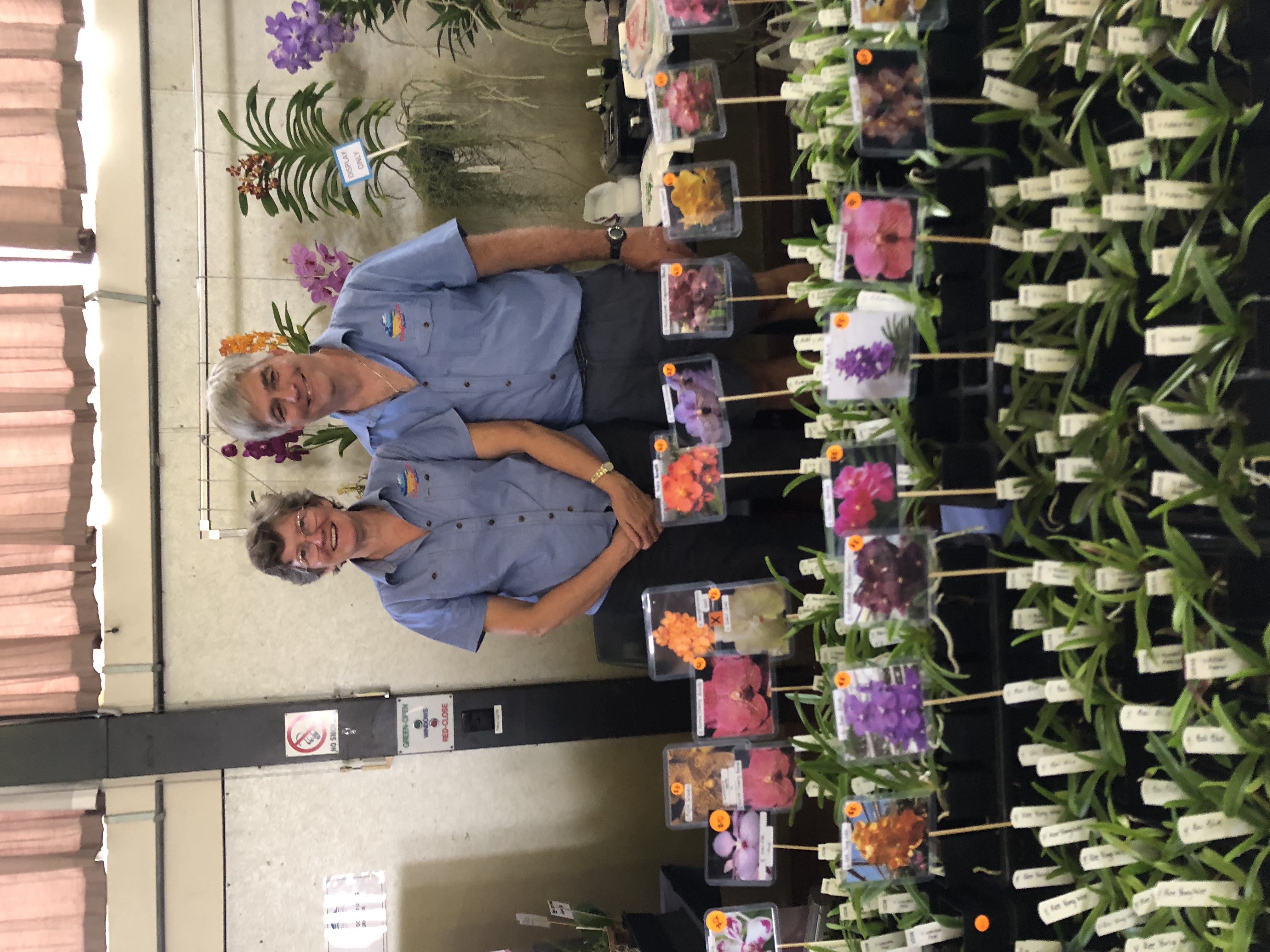 2019 Boyne Tannum Show
The Boyne Tannum show was conducted on the 30th and 31st March and despite being one of the smallest clubs in the area the display and participation was excellent. The public attendance was strong, despite some less than favourable stormy weather on Saturday afternoon. We believe everyone had a great time and the organisation was excellent.
Well done to all concerned, we look forward to seeing everyone at next years show.
2019 Childers Charity Show
Yet another show has come and gone at Childers. This year saw a slightly smaller number of orchids displayed than in past years, mainly due to the poor weather leading into the show season. That being said, the quality of plants was excellent and deserved a look for all orchid lovers and the public alike. The show was a great success, as usual, with all profits being donated to Life Flight. We had a wonderful time at the show and trust all the people who purchased orchids from us will have every success in growing them on and flowering them for their enjoyment. We look forward to Spring Show later in the year.
2019 QLD International Orchid Fair
The Orchid Fair was a real eye opener! The Fair displays some of the best nurseries from across the state (and some from across the seas), and we were lucky enough to be invited this year. We received some wonderful feedback in relation to the quality and variety of plants we had available for sale, and also made some wonderful new contacts and friends. A big thank you to everyone involved in the organisation of the fair - you did an absolutely wonderful job. Hope to see you all there next year.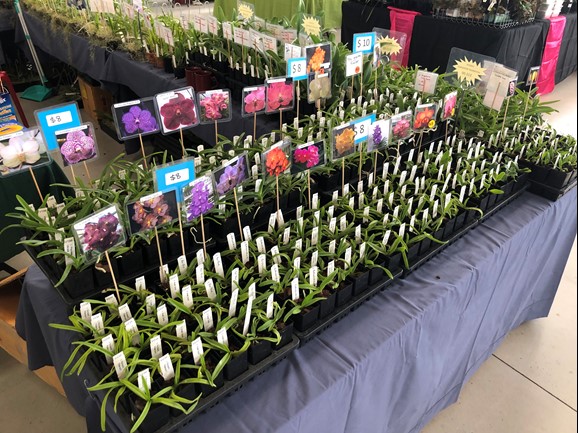 2018 Hervey Bay Orchid Society
Hervey Bay Orchid Society put on a fantastic event at a new venue, Xavier College, in Eli Waters over the Queen's Birthday weekend. From an outsiders perspective the event was seamless, although I am sure it was not as no show ever is, little lone one at a new and untried venue. There were record numbers of people through the door and fantastic displays by all the local societies. The event was a credit to all concerned. Our stand was well received and we were given many compliments on the set up and quality of the plants we had for sale. Thanks to all those who visited us. We hope to have an even larger and more diverse offering for you next year as we continue to grow the nursery and our variety of stock plants for sale.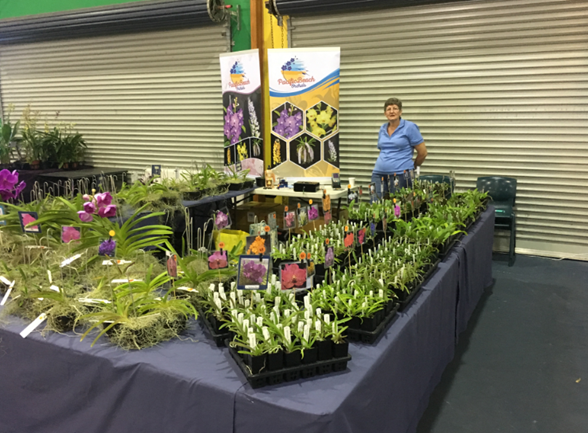 2018 Maryborough Orchid Society 
Day one of this three day show was held on Thursday 13th September 2018. This was a great chance to see some very good orchids as Maryborough and the surrounds have some of the best growers around. The show was very colourful and the society displays truly beautiful. 
2018 Childers Orchid Society - Spring Show
The Spring show commenced on Friday 31st August and concluded on Saturday the 1st September. This was a great event, with lots of plants to see and just as many to purchase. The display of plants was amazing with one of the largest shows ever held in Childers. Congratulations to the winners and the club for assembling such a wonderful event. 
2018 Agnes Water Orchid Show
The lovely people at Agnes Water always make a great effort to welcome everyone, and put on a great display. This year the show was held on Saturday and Sunday 11th and 12th August. We are sure you would find it well worth the trip to this beautiful part of Queensland while attending a terrific show. Make sure that you don't miss it next year. The Saturday night dinner and charity auction is a fantastic event and raised $1600 for a great cause.
2018 Howard Workshop Day
The Howard workshop days are always very informative and are a great day to socialise with fellow orchid growers from across the region. This year we had a great time presenting at the day as well as having a commercial sales stand. Thanks to the Bundaberg Orchid Society for arranging the day. It was fantastic to  see may of our friends and fellow orchid enthusiasts. The event this year was held on Saturday the 14th July.
2018 Bundaberg Orchid Society 
Another very successful show and weekend at the Civic Centre for the 2018 Bundaberg Orchid Society. The crowds were amazing and people flowed through the doors most of the three days. It was great to catch up with friends and make some new ones. There were many fellow orchid enthusiasts as well as the general public who came along to see the colourful displays. The nine displays put on by local members as well as visiting societies met all expectations as usual. Well done to all for a great show.
 
Photos of our stall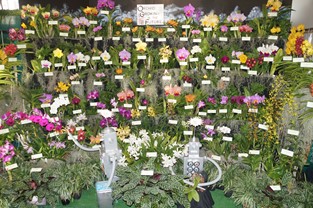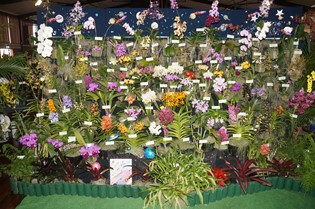 A couple of the many displays
2018 Childers Charity Show
The first local show of the season has come and gone. Childers Charity show was on Saturday 17th March 2018. Pacific Beach Orchids had a successful show, and the commercial stand received a number of positive comments about the quality of the plants for sale. Thanks for the feedback everyone. In addition, we received a number of prizes in the show gaining six first places within the classes and the Grand Champion Orchid of the Show with Vanda denisoniana. Thanks to the organisers who did a wonderful job again raising vitally important funds for worthwhile charities. Looking forward to the Spring Show in August.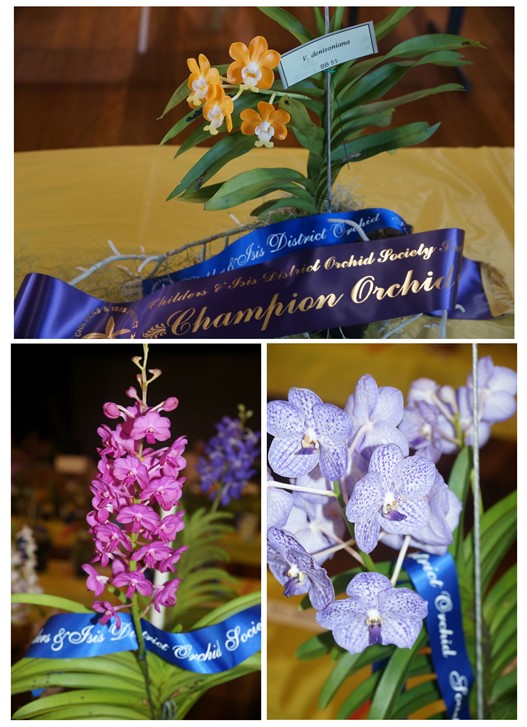 2017 Hervey Bay Show
Hervey Bay show was the last of the season and was also a fantastic event. We had a quieter show taking out a couple of first place ribbons and some minor prizes, however the event is growing every year. A magnificent display is a compliment to the clubs and members who support it.
2017 Maryborough Show
Maryborough was yet another great show for Pacific Beach Orchids with some beautiful plants on display from the local orchid growers and fantastic displays by the clubs. We had a good deal of success taking out Reserve Champion Orchid of the Show as well as Best Species and a couple of first in class prizes.
2017 Childers Orchid Society Show
Next up was the Childers Orchid Society Show held at the end of August. Another successful couple of days with three first prizes and the Champion Specimen plant with our beautiful C. amethystoglossa.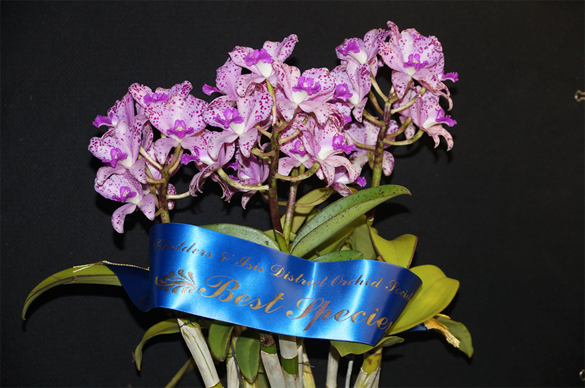 2017 Agnes Water Orchid and Foliage Club Incorporated Show
We attended the Agnes Water Orchid and Foliage Club Incorporated show on the 12th and 13th August and had a great weekend. The show was a huge success and we brought home three first placed orchids as well as a Champion in Class. Congratulations to the club on raising $1400 to go to the Care Flight Rescue Service from the Saturday evening auction. A fantastic cause and lots of fun!
2017 Bundaberg Orchid Society Show
The 2017 Bundaberg Orchid Society Show produced some great results for Pacific Beach Orchids, with us winning the Grand Champion Orchid of Show with Fdk. After Dark. We also collected the prize for Champion Species of the Show with our lovely V. denisoniana and the Bill Murdock Trophy for the Best Vanda Orchid by a Bundaberg Club Member.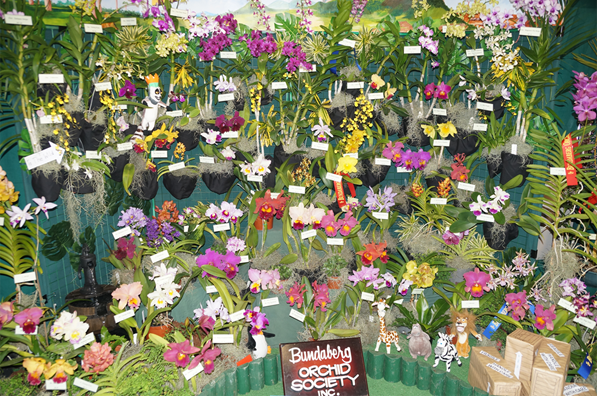 ---
If you have any questions or concerns about growing your orchids or would like further information on which orchid is best for you, please contact us.